Time to pack for vacation?  Remember why you chose a vacation home rental!  To escape insanity, isolate safely, AND to have all the comforts of home ready for you when you arrive.
Planning a vacation not only involves choosing where to go and deciding on things to do, but also assessing the amenities that are being offered to you as a guest in vacation home.
Over the past few years, many people have been skipping the hotel stays in order to have all of the comforts of home in their rental – plus it's private. Guest notice amenities. Period. Surveys show that rental guests do not want to eat out every meal (hence needing a great kitchen) they want to be able to be spontaneous in what they do on vacation.
Airbnb recently asked guests in a survey what the top amenities they were looking for.  No big surprise here.  Functionality came first – meaning a coffee maker or full set of wine glasses.  Next was comfort (air conditioning/heat and Wi-Fi).  That was followed by pools and parking.
When women start planning they consider any number of scenarios. Is there a hair dryer?  Is there an ironing board?  Do they have garbage bags and laundry detergent? Are we close to shopping? 
What is the fastest way to get a meal prepared when we arrive without having to stop at McDonalds?  If we want to go out, where are we going?  Will I need water when I arrive?
Our property manager at Cape Coral Home Away is continually thinking of guests and what they might need when they pick this "home away from home".  And because of that she has several phone conversations with you prior to your arrival.  Her instincts are great at knowing what your expectations are.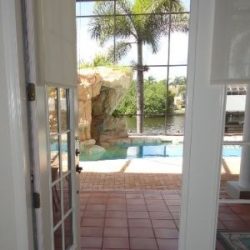 Below are the amenities we at Cape Coral Home Away knew we would want to include for our guests:
24-hour contact-free check-in
A complimentary welcome basket 
A list of essential stores and where to get groceries or have them delivered
Recommendations of local restaurants and establishments
A private zero-entry pool with a grotto, waterfall and spa
A 26 ft. pontoon boat
Access to a boat captain who can teach guests about the boat, the lift and provide some navigational tips
Local maps of the waterways for boating
A well-furnished kitchen that includes:
A large supply of dinnerware, drinkware, silverware, serving platters, cork screws, cooking pans and utensils, mugs, and more
Small kitchen appliances including coffee maker, blender, toaster and slow cooker.
Pantry items such as assorted spices and oils.
Grill
Highchair
Fast and convenient Wi-Fi
Cable TV (great room and bedrooms)
Bedside outlets and USB chargers
Family-friendly games and toys
Great closets and clothing storage
Toiletries
Hair Dryer
Laundry Room with Washer and Dryer
Fresh Linens, Towels and Beach Towels
Iron/Ironing Board
Outdoor lighting and well-lit paths
Handicap accessible first floor master suite
Garage and extra parking
Fishing Poles
Be sure to pick a vacation home that meets your expectations. Some people are happy with very little but others want vacation to also be vacation from worrying.
Book directly with Cape Coral Home Away and take advantage of opportunities to save money!